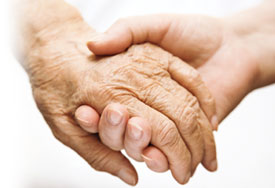 The other day I was fortunate to encounter a chance meeting with a woman whose mother had passed away under hospice care. She shared a story similar to many that have been told over the years about the virtues of hospice.
The woman praised the social worker and nurse who oversaw care for her mother. The nurse, especially, who 
lived  some 30 miles away, but "just happened to be in the neighborhood" of the family's sleepy burg on the Saturday the patient's life expired.
"As I get older," the woman told me, "I don't believe in coincidences anymore."
In this case, she believes in the power of hospice.
The nurse stopped in for a visit that day. She asked if the patient and family needed anything. She consoled them. She was there for them at the time of death, to provide comfort and compassion.
That's what hospice does.
I am the Agency Relations Coordinator for a not-for-profit that provides hospice care called HomeCare & Hospice. Among my responsibilities is to raise awareness and educate the community about our hospice care services, and to illustrate that hospice is an option – and a pretty good one – when end of life is near.
A recent Time/CNN poll revealed that 7 in 10 Americans would prefer to die in the safety and comfort of their own homes. The reality is that only 1 of 4 actually do.
Instead, patients and families often fight for life by way of painful medical treatments and procedures that may or may not work. 
Hospice, on the other hand, allows individuals to die in their home, around family and friends, without suffering.
To build awareness and raise money to provide the best care to patients and families in four counties, HomeCare & Hospice puts on various fundraising events throughout the year. One of our more notable events is the annual Hospice Walk.
You can give a donation on my behalf. It can be as little as a few dollars. Every cent counts.
You can participate in the event. The Walk steps off at 10 a.m. Saturday, May 30 at the Allegheny River Trail at St. Bonaventure University. All participants will receive a gift and post-walk refreshments, compliment of HomeCare & Hospice and our sponsors.

You can talk about death and dying with your loved ones and become comfortable with it. How do you want to die? Where do you want to die?
Our agency helps individuals face and embrace death. Please support us.