An aspiring college football player, this week, Tweeted a photo of a recruiting letter he received from Virginia coach Mike London.
The letter can be seen below. The message is simple, different, maybe even powerful. Others have described it as "cryptic."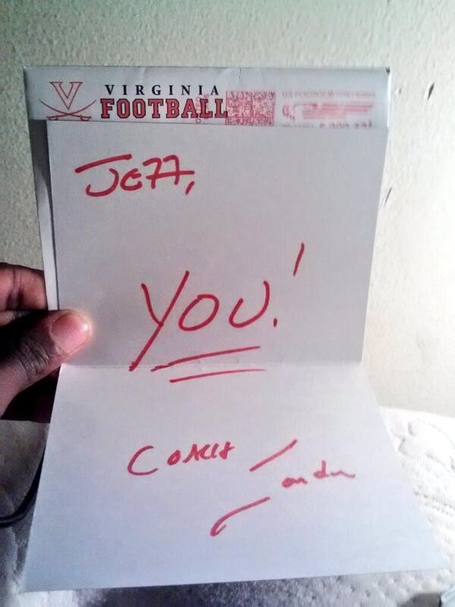 To Jeffery Farrar, the recipient of the letter, its intentions were clear. This is what the UVA commit posted on Twitter:
"You"
Stands for me being apart of a good class coming in, so for you fans who live for this stuff. Relax, i know what that letter meant

— Gods Child (@jeffery_3) December 17, 2013
In the world of recruiting – and advertising – sometimes less can be more, particularly as it relates to young people. As it is, the next Tweet, Facebook post or Kardashian/Jenner/Miley/Bieber selfie is only click or scroll away. Everything after 140 characters is #overkill. LOL
As our attention spans become shorter, advertising – and recruiting – clutter grows larger. Those responsible for sculpting messages, ads, recruiting letters, etc. must be innovative if the goal is to have the message successfully consumed. They must also be different. And they must think outside the box.
And, perhaps most important, they must be cognizant of brevity. After all, a fantastic minute-long commercial loses its fantastic qualities if the viewer flips the channel after 15 seconds.
London's message was different and to the point. It was also successful (Farrar understood and embraced it). And it was attention grabbing (all the major sports websites expounded on it). The exposure should aid London's future recruiting efforts.
The simplicity of London's message reminded me of the "This is your brain on drugs" PSA from the late 1980s. Some 25 years later, I still remember the commercial vividly. I can recall the profound effect its message had on me. Even as a 6- or 7-year old, the message was clear and to the point: drugs are bad for you.
The image of the egg in a frying pan coupled with the firm proclamation: "This is your brain on drugs. Any questions?" added up to a powerful message. That, and a huge budget and various bells and whistles were not needed to produce it.
Indeed, sometimes less can be more. A lot more.