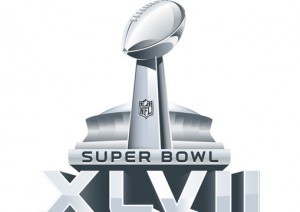 You will hear, watch or read about the Harbaugh family, Ray's last ride and Colin Kaepernick's arrival so much over the next few days that you'll be rushing to barricade yourself in a phone booth in Iran by the time the football is kicked off on Super Bowl Sunday.
But have no fear. I bring to you the top five Super Bowl storylines you won't be inundated with this week.
—-
5. Watch out for Tandon Doss. Yes, Tandon Doss.
He is a reserve wide receiver and special teamer for the Ravens. And he played his college ball at Indiana. While Indiana isn't exactly a football power, you might be surprised to know that Doss' appearance in the big game marks the fourth straight a year a Hoosier has played in the Super Bowl.
In fact, a pair of former Hoosiers have produced two of the more noted plays in recent Super Bowl history: Tracy Porter's interception return for a score clinched the Saints' Super Bowl XLIV triumph, while Antwaan Rande El's gadget touchdown pass to Hines Ward propelled the Steelers to victory in Super Bowl XL.
What might Doss have up his sleeve Sunday?
—-
4. San Francisco's Garrett Celek has overachieved in the NFL and in life … mostly in life. As a tight end for four seasons at Michigan State, he caught a mere 14 passes and wasn't selected in the 2012 draft. But Celek caught on with the 49ers and made four catches for 51 yards in 13 games this season. He is listed as San Francisco's third tight end heading into the big game.
As an aside, Celek dates Hooters Dream Girl Sarah Hinton. That's some catch for a guy who has made just 18 of them on the field over the past five years. By the way, Garrett is the lesser known of the Celek brothers (Brent is Philadelphia's starting tight end).
—-
3. Talk about bad karma. The Ravens should be the underdog for the simple fact that they employ James Ihedigbo.
As a backup safety with the Jets in 2009 and 2010, Ihedigbo was part of New York teams that faltered in AFC championship game losses. As a starter with New England last season, Ihedigbo and the Patriots lost to the Giants in the Super Bowl.
Is Ihedigo due or is he just doomed?
To note, Ihedigbo was a walk-on in college at the University of Massachusetts and hooked on with the Jets as an undrafted free agent in 2007. He was cut by the Patriots during the 2012 preseason. If you plan on rooting for anyone Sunday, Ihedigbo is a good player to start with.
—-
2. The 49ers signed linebacker Nathan Stupar to their practice squad on Jan. 8. What does that have to do with anything? Nothing much – except for those choosing to compare Kaepernick to former Giants quarterback Jeff Hostetler.
Hostetler won Super Bowl XXV in his seventh career start, the fewest for a Super Bowl-winning QB. Kaepernick will be making his 10th start on Sunday. Both players took over as starters during the regular season.
They're connected by Stupar, who is Kaepernick's teammate and Hostetler's nephew.
Like Jim, John, Garrett, Brent, Peyton and Eli, Stupar had a brother whom was employed by an NFL team. Like Garrett, and Brent, Jonathan Stupar made his living as a tight end. The elder Stupar appeared in 30 games, made five starts and caught 18 passes during the 2009 and 2010 seasons for Buffalo.
For the sappy types, Nathan Stupar is also known for a romantic Valentine's Day engagement proposal.
—-
1. At age 36, Brian Jennings will be one of the oldest players on the field Sunday. If he does his job well, you probably won't hear Jim Nantz or Phil Simms utter his name.
Jennings is the 49ers' long snapper and he is in his 13th year with the team. He played on the 2002 NFC West champion 49ers club that included Jeff Garcia, Garrison Hearst and Terrell Owens and was coached by Steve Mariucci. He has also survived the putrid coaching stints of Dennis Erickson, Mike Nolan and Mike Singletary in San Francisco.
Jennings played tight end at Arizona State and caught four passes … not too bad when compared to Garrett Celek's contributions at Michigan State. He also enjoys yoga.