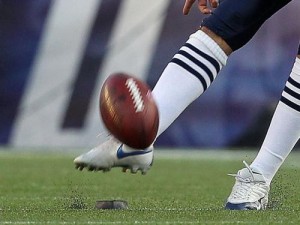 An info graphic I read as a young man some 15 years ago in Reader's Digest remains vivid. The brief overview provided insight (and prognostication) into what of our popular sporting games  would thrive or fail deep into the future.
What I read made it seem like the game of tackle football would someday soon be on life support, fighting for its last breaths.
This, of course, was before we knew exactly the toll gridiron combat was taking on more than a few of its gladiators. Today, CTE has become as much a part of football lingo as PAT.
CTE – Chronic Traumatic Encephalopathy – is a progressive degenerative brain disease in individuals with a history of repetitive brain trauma. It is thought to have contributed to the death of Junior Seau, among other former NFL players.
The position of the Reader's Digest piece was that football wouldn't survive because the players would become too big,  too fast and too dangerous for their own good. A lengthy piece from The New Yorker  touches on similar points. Citing bigger, stronger, faster, fiercer, Baltimore Ravens safety Bernard Pollard recently made this dire prediction:
"I hope I'm wrong, but I just believe one day there's going to be a death that takes place on the field because of the direction we're going."
Gridiron casualties were commonplace in football's early days, when rules were lenient and players often used their helmetless heads as battering rams. In 1904, 18 football deaths and many more serious injuries were reported – pushing president Theodore Roosevelt into action. Roosevelt's reform ultimately saved the game of football.
In many ways, it feels like the turn of the 20th century all over again. In reaction to the growing cases of brain injuries to former players and subsequent lawsuits against the NFL, commissioner Roger Goodell has made player safety a priority.
It is a fluid process. The next piece of legislation enacted by the league won't likely banish kickoffs from the game, but it should.
Jacoby Jones' electrifying 108-yard kickoff return in the Super Bowl has only served to reignite the kickoff debate. Perhaps no act of sport is more exciting than the kickoff return, yet no act of sport is quite as dangerous. The play consists of 250-pound-or-more armored men flying around like missiles, seeking explosive conclusions.
Former NFL executive Andrew Brandt said on ESPN's Outside the Lines the other day that more injuries occur on kickoffs than on any other play in professional football.
Jason Lisk of Big Lead Sports presented these galling figures related to high school football injuries:
32.7 percent of injuries on kickoffs and punts were "severe" (defined as 21 or more missed days), compared to 19.3 percent on other plays.
20.3 percent of injuries on kickoffs and punts were concussions, compared to 10.9 percent on other plays.
It is also important to note that the two most high-profile football paralysis victims in recent memory – Kevin Everett and Eric LeGrand – fell victim while covering kickoffs.
After the NFL moved kickoffs up from the 30 to the 35-yard line before the 2011 season – thus leading to a drastic decline in returned kicks – the league found that players suffered 40 percent fewer concussions on kickoffs that season.
Great. But not good enough.
Buccaneers coach Greg Schiano, who coached LeGrand at Rutgers, proposed a reasonable alternative to the kickoff: The kicking team is given the ball at its own 30-yard line with the option to punt or try to convert a 4th-and-15 to maintain possession.
Goodell appears to be an advocate of the proposal. It could work.
Yet, the idea of eliminating kickoffs has led to plenty of dissention among pundits, analysts, commentators and former players. Mike Ditka and Mike Pereira, to name a couple, are adamantly against it. ESPN polled seven of its NFL analysts (all former players) about doing away with kickoffs. All were against it.
Why?
Among other reasons, the play is exciting, they said. It's an essential and integral part of the game. Kickoffs provide fringe NFL players a job and paycheck.
Here is a sampling of what Hugh Douglas said:
"It's fun running downfield and getting a chance to blow somebody up."
And Marcellus Wiley:
"I know injuries can occur on this play, but that's the nature of the beast, which is the NFL."
Sorry guys, that kind of macho thinking might have been acceptable 20 years ago. Now it comes off as ignorant and careless.
What is also bothersome is the argument that the kickoff is such a staple of the game that the NFL cannot possibly survive and prosper without it. But hasn't pro football undergone several major alterations over the years and only gain in popularity?
To review:
The field goal post used to be positioned at the goal line.
Taking a ball carrier down by his facemask was once legal.
Throwing a forward pass was once illegal.
NFL teams used to play 14 regular season games.
Playoff games and overtime periods weren't part of the game for many years.
Players used to play both offense and defense.
A touchdown used to be worth four points, then five points and now six.
Kickoffs have been moved from the 40 to the 35 to the 30 and back again.
The two-point conversion wasn't introduced until 1994.
Offensive lineman couldn't use their hands to halt defenders years ago.
Helmet-to-helmet contact was once acceptable.
The extent of downfield contact a defender can have with a receiver has been restricted many times over.
Instant replay reviews were instituted, then banished and now are seemingly back for good.
Certainly, removing kickoffs from the game would drastically alter the fan and player experience. But it is a needed change. Player safety is more essential to the game than the kickoff. Period.
If it isn't that way, then the NFL – like Reader's Digest predicted – will one day be MIA.